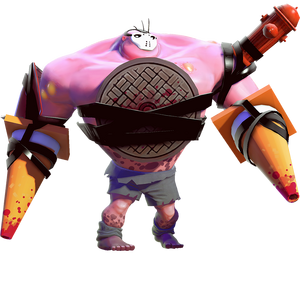 "Safe and sound."
---
Summary
Titans are hoarders. They take any scrap and make it into armor, allowing them to ignore some damage.
Armor allows him to ignore low damage units
Great front-line against weaker units
Low health; beware high damage units!
---
Visual Appearance
The Titan is a well built zombie with a lot of "junk" sapped to him suck as traffic cones on his hands, a man-hole cover on his chest, a fire hydrant on his left shoulder and a white hockey mask to cover his face.
---
Strategy
The Titan's armor is a powerful gimmick, as he can be immune to damage that is too low to pierce through, making him have more survive-ability than any other tank against large masses of Gunners or Minigunners.
What balances this out is the fact that his base HP is low and survivor units with high burst damage (Snipers for example) will pierce his armor and deal massive damage to him.
Since the armor stat allows it to be immune to damage, the Titan is an ideal unit for "farming" lower level missions infinitely for unlimited brains, DNA, units (all rarities if you're lucky enough) and even trophies in raids.
---
Trivia
You are rewarded a Titan upon completion of Nairobi.
---
Perks
Level 3
Pop Goes the Human - 6% chance to deal 240% damage
Level 10
Ripple Effects - Attacks affect an area
Outburst - Occasionally increases Damage by 40% for 5 seconds
Level 20
Decreased Deployment I - Decreases deployment cooldown
Level 30
Ricochet - Reflects 15% of damage
Shielding - Gives nearby allies armor
Level 40
Decreased Deployment II - Further decreases deployment cooldown
Level 50
Provoke - Taunts humans to attack
Stalwart - Increase health by 20%
---
Unit Stats:
| Speed | Deployment Cooldown (Initial) | Legendary Version |
| --- | --- | --- |
| 10 | 30 | Dreadnaught |
| Level | Health | Damage | Building Damage | Armor |
| --- | --- | --- | --- | --- |
| 1 | 40 | 4 | 2 | 6 |
| 2 | 55 | 6 | 3 | 9 |
| 3 | 74 | 8 | 4 | 12 |
| 4 | 97 | 11 | 6 | 16 |
| 5 | 124 | 15 | 8 | 21 |
| 6 | 155 | 19 | 10 | 27 |
| 7 | 191 | 24 | 13 | 34 |
| 8 | 231 | 29 | 16 | 42 |
| 9 | 275 | 35 | 20 | 50 |
| 10 | 323 | 42 | 24 | 59 |
| 11 | 374 | 49 | 28 | 69 |
| 12 | 428 | 57 | 33 | 79 |
| 13 | 485 | 65 | 38 | 90 |
| 14 | 544 | 73 | 43 | 101 |
| 15 | 604 | 81 | 48 | 113 |
| 16 | 665 | 90 | 53 | 125 |
| 17 | 726 | 99 | 58 | 137 |
| 18 | 787 | 108 | 63 | 149 |
| 19 | 847 | 117 | 68 | 161 |
| 20 | 906 | 126 | 73 | 173 |
| 21 | 964 | 134 | 78 | 184 |
| 22 | | | | |
| 23 | 1074 | 150 | 88 | 206 |
| 24 | | | | |
| 25 | | | | |
| 26 | | | | |
| 27 | | | | |
| 28 | | | | |
| 29 | | | | |
| 30 | 1389 | 197 | 118 | 270 |
| 31 | 1425 | 202 | 121 | 277 |
| 32 | | | | |
| 33 | 1489 | 212 | 212 | 290 |
| 34 | 1518 | 217 | 130 | 296 |
| 35 | 1545 | 221 | 133 | 302 |
| 36 | | | | |
| 37 | | | | |
| 38 | | | | |
| 39 | | | | |
| 40 | 1654 | 239 | 144 | 325 |
| 41 | | | | |
| 42 | | | | |
| 43 | | | | |
| 44 | | | | |
| 45 | | | | |
| 46 | | | | |
| 47 | | | | |
| 48 | | | | |
| 49 | | | | |
| 50 | | | | |