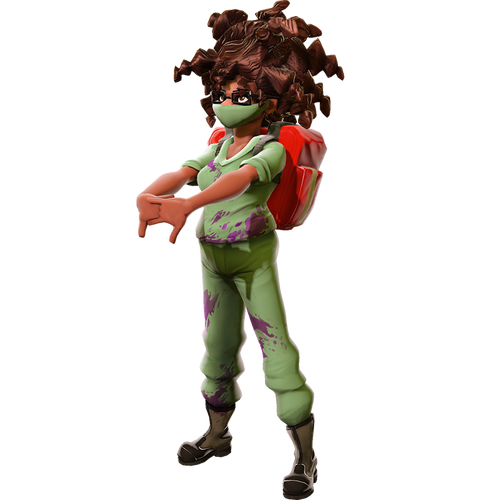 "Measure twice, cut once."
---
Summary
Surgeons perform restorative miracles on dead or near dead Survivors and it's all covered by insurance.
Brings Human units back from the brink of death
Healing a unit takes a long time; be prepared!
Has no attack and low health, so keep her safe!
---
Visual Appearance
Surgeons wear red backpacks to keep all of their goodies.
She wears a green surgical gown with purple zombie goo on it.
She has curly,puffy hair so she looks like a mad scientist.
---
Strategy
Use Surgeons to resurrect fallen allies and keep the Horde at bay.
Trick: Up the squad size on pad by adding her to the squad, place her after one or two units have died already and place more units then her and the revived units can surpass the squad limit for the pad!
She needs a few seconds of cooldown between reviving so make sure your units can defend the horde in the process.
---
Trivia
Surgeon rewarded upon completion of Mumbai.
She is the only female character in the game who wears a mask.
---
Perks
Level 3
Delicate Work - 5% chance to resurrect 200% faster
Level 10
Years of Experience - Reduces cooldown by 33%
Scalpel - A small attack
Level 20
Decreased Deployment I - Decreases deployment cooldown
Level 30
Telesurgery - Increase range by 500%
Field Training - A small heal
Level 40
Decreased Deployment II - Further decreases deployment cooldown
Level 50
Operating Room - Resurrections affect an area
Subtlety - Gains Stealth
---
| Speed | Legendary Version | Rarity | Deployment Cooldown (sec) |
| --- | --- | --- | --- |
| 7 | Sawbones | Uncommon | 45 |
Level
Health
Heal
1
20
120
2
28
164
3
38
218

150

4
50
284
5
6
7
99
557
8
120
673
9
10
168
940
11
12
13
254
1410
14
15
16
17
18
19
20
21
507
2788
22
537
2949
23
24
25
26
27
28
29
30
733
4006
31
32
33
34
35
36
37
38
39
40
41
42
43
44
45
46
47
48
49
50