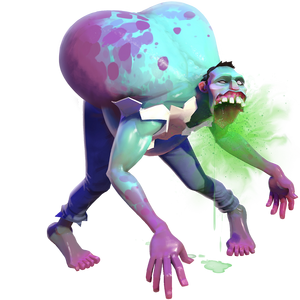 "Cloudy - with a chance of death. Heh."
---
Summary
No jaw? No problem! Sprayers are short-range terrors that spew a gloomy mist at all enemies.
Short-range area of effect spray
Affects multiple Humans at once
Short-range makes him vulnerable
---
Visual Appearance
He has blue skin, lacks lips a jaw and a tongue.
Two lumps come out from his back, these are presumably his lungs (zombification made them huge) where his toxic breath is stored.

Like most other ranged "spitting units" he has no jaw
---
Offensive Strategy
Unlike other ranged units, this unit should be placed on the front line near groups of humans due to its low range.
If there is a high wall (nobody can normally attack through it) with humans directly on the other side, this unit's breath can go through the wall and do massive damage to the humans, the humans won't be able to attack back
---
Trivia
This is the only non-tank zombie that can naturally have armor.
Unlike other ranged spitting zombies, this guy has a big back full of gas instead of a big stomach full of liquid.
---
Perks
Level 3
Particulates - 6% chance to deal 240% damage
Level 10
Scales - Adds armor
Blinding Spray - Increases target miss rate by 10%
Level 20
Decreased Deployment I - Decreases deployment cooldown
Level 30
Miasma - Increases range by 30%
Vapors - Widens cone by 35%
Level 40
Decreased Deployment II - Further decreases deployment cooldown
Level 50
Debilitating Mist - Decreases target damage by 25%
Smog - Deals 10% damage per second for 5 seconds
---
| Speed | Deployment Cooldown (Initial) | Epic Version |
| --- | --- | --- |
| ? | ? | Foulmouth |
| Level | Health | Damage |
| --- | --- | --- |
| 1 | 50 | 10 |
| 2 | 68 | 14 |
| 3 | 91 | 19 |
| 4 | 119 | 25 |
| 5 | | |
| 6 | 190 | 40 |
| 7 | | |
| 8 | | |
| 9 | | |
| 10 | 396 | 86 |
| 11 | | |
| 12 | | |
| 13 | | |
| 14 | | |
| 15 | | |
| 16 | | |
| 17 | | |
| 18 | | |
| 19 | | |
| 20 | 1114 | 249 |
| 21 | | |
| 22 | | |
| 23 | | |
| 24 | | |
| 25 | | |
| 26 | | |
| 27 | | |
| 28 | | |
| 29 | | |
| 30 | | |
| 31 | | |
| 32 | | |
| 33 | | |
| 34 | | |
| 35 | | |
| 36 | | |
| 37 | | |
| 38 | | |
| 39 | | |
| 40 | | |
| 41 | | |
| 42 | | |
| 43 | | |
| 44 | | |
| 45 | | |
| 46 | | |
| 47 | | |
| 48 | | |
| 49 | | |
| 50 | | |