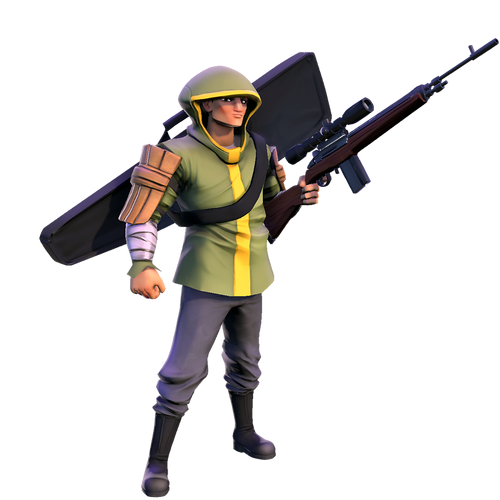 "I can shoot the wings off a fly."
Occasionally says: "On my sight".
Death: "Tell my gun...I love her...".
---
Summary
Snipers shoot first, they don't ask questions. Their rifles are slow to reload but incredibly high powered.

Very powerul long-ranged unit
Targets large enemies first
Cannot fire at units in melee range
---
Visual Appearance
Wears a green hoodie with grey pants and black work boots.
He also holds a hunting rifle and a container for his gun.
---
Strategy
Put these units at the rear of your squad, as they provide useful cover-fire.
Placing a Melee Unit with them will provide a longer life-span on the front lines.
Be aware that Snipers cannot shoot while Zombies are in melee range (unless the Up Close and Personal perk is chosen).
---
Trivia
He is pretty boastful, considering his claim to "shoot the wings off of flies".
When he dies, he will say:"Tell my gun...I love her..."
---
Perks
Level 3

Measured Breath (5% chance to deal 200% damage)

Level 10 (choose)

Bolt-action (Decreases Cooldown by 25%)
Semi-Auto (Occasionally, rapidly shoots 3 times in a row, but then has to reload)

Level 20

Decreased Deployment I (Decreases Deployment Cooldown)

Level 30 (choose)

Up Close and Personal (Allows firing in melee-range)
High-Powered Rifle (Can hit 2 targets per shot)

Level 40

Decreased Deployment II (Further Decreases Deployment Cooldown)

Level 50 (choose)

Set the Sights (Targets Mutated Zombies first)
One Shot, One Kill (Occasionally one shots a target)
| Speed | Rare Version | Rarity | Deployment Cooldown (sec) |
| --- | --- | --- | --- |
| 6 | Sharpshooter | Common | 45 |
| Level | Health | Damage |
| --- | --- | --- |
| 1 | 10 | 40 |
| 2 | 14 | 55 |
| 3 | 19 | 74 |
| 4 | 25 | 97 |
| 5 | 32 | 124 |
| 6 | 40 | 155 |
| 7 | | |
| 8 | | |
| 9 | | |
| 10 | 86 | 323 |
| 11 | | |
| 12 | | |
| 13 | | |
| 14 | | |
| 15 | | |
| 16 | | |
| 17 | | |
| 18 | | |
| 19 | | |
| 20 | | |
| 21 | | |
| 22 | | |
| 23 | | |
| 24 | | |
| 25 | | |
| 26 | | |
| 27 | | |
| 28 | | |
| 29 | | |
| 30 | | |
| 31 | 396 | 1425 |
| 32 | | |
| 33 | | |
| 34 | | |
| 35 | | |
| 36 | | |
| 37 | | |
| 38 | | |
| 39 | | |
| 40 | | |
| 41 | | |
| 42 | | |
| 43 | | |
| 44 | | |
| 45 | | |
| 46 | | |
| 47 | | |
| 48 | | |
| 49 | | |
| 50 | | |