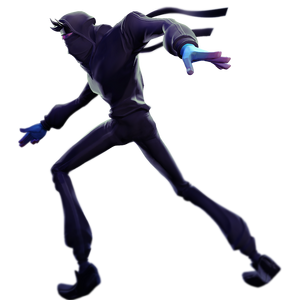 "From the shadows!"
---
Summary
Though silent, the Shade's first strike is extremely deadly.
Cannot be seen until he attacks
Very high damage but low health
Vulnerable once he attacks
---
Visual Appearance
---
Strategy
Useful for taking out key humans, due to its high damage and invisibility before striking.
As it is a Runner variant, it is ineffective against buildings. Pair him up with a tanky unit that deals large damage to buildings.

The Vault Perk will be helpful in cases against walls, as Shade will leap over them rather than try to break them.
---
Trivia
Even though it's a different unit, the Shade is identical in appearance to the Assassin, albeit with higher stats.
---
Perks
Level 3
Dirty Fighting - 6% chance to deal 240% damage
Level 10
Enter the Shadows - Reduces Stealth Reentry by 35%
Leech - Heals self for 5% of damage dealt
Level 20
Decreased Deployment I - Decreases deployment cooldown
Level 30
Vault - Jumps walls
Like Smoke - Increases movement speed by 45%
Level 40
Decreased Deployment II - Further decreases deployment cooldown
Level 50
Ancestral Knowledge - 25% chance to deal 200% damage
Assassinate - Occasionally strikes for 1000%
---
| Speed | Previous Version (Rarity) |
| --- | --- |
| 25 | Assassin |
| Level | Team Power | Health | Damage |
| --- | --- | --- | --- |
| 1 | 18 | 24 | 29 |
| 2 | 27 | 34 | 40 |
| 3 | 40 | 46 | 53 |
| 4 | 55 | 60 | 70 |
| 5 | 75 | 77 | 89 |
| 6 | 95 | 96 | 112 |
| 7 | | | |
| 8 | 155 | 144 | 167 |
| 9 | 190 | 172 | 200 |
| 10 | | | |
| 11 | | | |
| 12 | | | |
| 13 | | | |
| 14 | | | |
| 15 | | | |
| 16 | | | |
| 17 | | | |
| 18 | | | |
| 19 | | | |
| 20 | | | |
| 21 | | | |
| 22 | | | |
| 23 | | | |
| 24 | | | |
| 25 | | | |
| 26 | | | |
| 27 | | | |
| 28 | | | |
| 29 | | | |
| 30 | 1060 | 880 | 1016 |
| 31 | | | |
| 32 | | | |
| 33 | | | |
| 34 | | | |
| 35 | | | |
| 36 | | | |
| 37 | | | |
| 38 | | | |
| 39 | | | |
| 40 | | | |
| 41 | | | |
| 42 | | | |
| 43 | | | |
| 44 | | | |
| 45 | | | |
| 46 | | | |
| 47 | | | |
| 48 | | | |
| 49 | | | |
| 50 | | | |