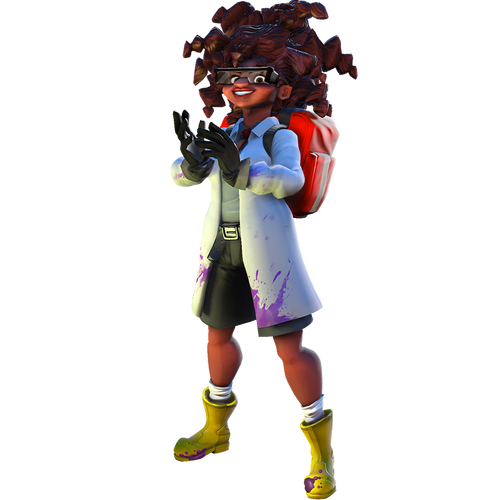 "My theories aren't up for debate."
---
Summary
The Scientist's study of Zombies has led to a breakthrough in slowing and weakening the Horde with SCIENCE!
Greatly weakens nearby Zombies
Affects multiple Zombies at once
Has no attack and low health, so keep her safe!
---
Perks
Level 3
New Hypothesis - 6% chance to increase effectiveness by 240%
Level 10
Antibodies - Deals damage in an area of effect
Ataxia - Increase target miss rate by 10%
Level 20
Decreased Deployment I - Decreases deployment cooldown
Level 30
Myasthenia - Decrease target damage by 15%
Osteogenesis - Decreases target armor by 35%
Level 40
Decreased Deployment II - Further decreases deployment cooldown
Level 50
Airborne Pathogens - Increases the area of effect by 40%
Lethargy - Decreases target movement by 30%
---
Visual Appearance
---
Offensive Strategy
Her base effect is to decrease enemy attack cooldown, so other units can have more chance to survive huge attacks.
If u have a five-unit pad, consider to 2 melee units and 2 ranged units and 1 researcher to maximize fire power.
She appears useless unless you upgrade her to a higher level,so keep upgrading her!
---
Trivia
| Speed | Previous Version | Rarity | Base Cooldown (Seconds) |
| --- | --- | --- | --- |
| 7 | Researcher (Epic) | Legendary | 40s |
| Level | Health | Increase Target Cooldown |
| --- | --- | --- |
| 1 | 24 | |
| 2 | 34 | |
| 3 | 46 | |
| 4 | 60 | |
| 5 | 77 | |
| 6 | 96 | 63% |
| 7 | 119 | 62% |
| 8 | 144 | |
| 9 | | |
| 10 | | |
| 11 | | |
| 12 | | |
| 13 | | |
| 14 | | |
| 15 | | |
| 16 | 419 | |
| 17 | | |
| 18 | | |
| 19 | | |
| 21 | | |
| 22 | | |
| 23 | | |
| 24 | | |
| 25 | | |
| 26 | | |
| 27 | | |
| 28 | | |
| 29 | | |
| 30 | | |
| 31 | | |
| 32 | | |
| 33 | | |
| 34 | | |
| 35 | | |
| 36 | | |
| 37 | | |
| 38 | | |
| 39 | | |
| 40 | | |
| 41 | | |
| 42 | | |
| 43 | | |
| 44 | | |
| 45 | | |
| 46 | | |
| 47 | | |
| 48 | | |
| 49 | | |
| 50 | | |