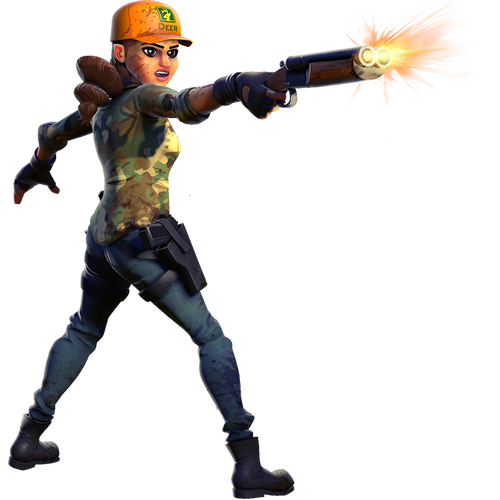 "Zombie Season is open!"
---
Summary
Scattershots are actually quite focused on wreaking havoc to the Zombie Horde with a sawed-off shotgun.

Shoots multiple bullets in a wide arc
Great for thinning out the Horde
Takes a while to reload; can be overwhelmed
---
Visual Appearance
The Scattershot has the same visual appearance as the previous common version, the Mercenary
---
Strategy
The Scattershot can hit multiple zombies at once and deal moderate damage if multiple bullets hit a single target.
---
Trivia
Scattershot rewarded upon completion of Bangkok.
---
Perks
Level 3
Metal Shot - 6% chance to deal 240% damage
Level 10
Birdshot - Increases number of bullets by 40%
Double Barrels - Occasionally fires both barrels at once, but requires reloading after
Level 20
Decreased Deployment I - Decreases deployment cooldown
Level 30
Sawed-off - Increases shot spread by 50%
Extended Barrel - Reduces shot spread by 50%
Level 40
Decreased Deployment II - Further decreases deployment cooldown
Level 50
Slugs - Increases Range by 30%
Easy Loader - Reduces cooldown by 15%
---
| Speed | Previous Version | Rarity | Deployment Cooldown (sec) |
| --- | --- | --- | --- |
| 7 | Mercenary | Rare | |
| Level | Health | Damage |
| --- | --- | --- |
| 1 | 30 | 3 |
| 2 | 41 | 4 |
| 3 | 56 | 5 |
| 4 | 75 | 8 |
| 5 | 93 | 10 |
| 6 | 117 | 12 |
| 7 | 114 | 16 |
| 8 | 84 | 15 |
| 9 | 208 | 24 |
| 10 | 244 | 29 |
| 11 | 284 | 34 |
| 12 | 324 | 40 |
| 13 | | |
| 14 | | |
| 15 | 458 | 58 |
| 16 | | |
| 17 | | |
| 18 | 598 | 76 |
| 19 | 644 | 82 |
| 20 | 689 | 88 |
| 21 | | |
| 22 | | |
| 23 | | |
| 24 | | |
| 25 | 897 | 118 |
| 26 | | |
| 27 | | |
| 28 | | |
| 29 | | |
| 30 | 1060 | 142 |
| 31 | 1088 | 146 |
| 32 | | |
| 33 | | |
| 34 | | |
| 35 | | |
| 36 | | |
| 37 | | |
| 38 | | |
| 39 | | |
| 40 | | |
| 41 | | |
| 42 | | |
| 43 | | |
| 44 | | |
| 45 | | |
| 46 | | |
| 47 | | |
| 48 | | |
| 49 | | |
| 50 | | |