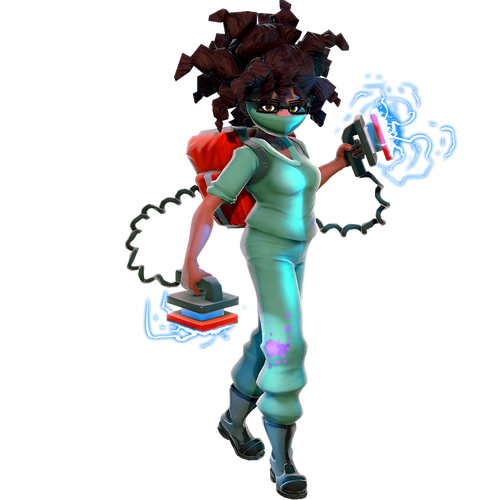 "Measure twice cut once."
---
Summary
Sawbones is a resident in restoring Survivors to full health, even those who've seemingly succumbed to death.
Brings Human units back from the brink of death
Healing a unit takes a long time' be prepared!
Has no attack and low health, so keep her safe!
---
Visual Appearance
The Sawbones shares the base model with other Support Survivors, having large messy hair.
She wears a surgeon's outfit with a mouth cover and boots.
---
Strategy
The Sawbones is able to revive fallen units, which allows for intense defensive capabilities if given the time to set back up.
She also can overcrowd a point by reviving units after the point is full.
---
Trivia
---
Perks
Level 3
Delicate Work - 6% chance to resurrect 240% faster
Level 10
Years of Experience - Reduces cooldown by 40%
Scalpel - A small attack
Level 20
Decreased Deployment I - Decreases deployment cooldown
Level 30
Telesurgery - Increases range by 500%
Field Training - A small heal
Level 40
Decreased Deployment II - Further decreases deployment cooldown
Level 50
Operating Room - Resurrections affect an area
Subtlety - Gains stealth
---
| Speed | Previous Version | Rarity | Base Deployment Cooldown |
| --- | --- | --- | --- |
| 8 | Surgeon | Legendary | 45s |
| Level | Health | Heal |
| --- | --- | --- |
| 1 | 24 | 144 |
| 2 | 29 | 173 |
| 3 | 46 | 262 |
| 4 | 60 | 341 |
| 5 | 77 | 435 |
| 6 | 96 | 544 |
| 7 | | |
| 8 | 144 | 808 |
| 9 | 172 | 962 |
| 10 | 202 | 1128 |
| 11 | 234 | 1307 |
| 12 | 269 | 1496 |
| 13 | 305 | 1692 |
| 14 | 342 | 1896 |
| 15 | 381 | 2104 |
| 16 | 419 | 2314 |
| 17 | 458 | 2525 |
| 18 | 496 | 2735 |
| 19 | 534 | 2943 |
| 20 | 572 | 3147 |
| 21 | 609 | 3346 |
| 22 | 645 | 3539 |
| 23 | 680 | 3725 |
| 24 | 713 | 3904 |
| 25 | 744 | 4076 |
| 26 | 774 | 4239 |
| 27 | 803 | 4394 |
| 28 | 831 | 4540 |
| 29 | 856 | 4678 |
| 30 | 880 | 4808 |
| 31 | 903 | 4930 |
| 32 | | |
| 33 | | |
| 34 | | |
| 35 | | |
| 36 | | |
| 37 | | |
| 38 | | |
| 39 | | |
| 40 | | |
| 41 | | |
| 42 | | |
| 43 | | |
| 44 | | |
| 45 | | |
| 46 | | |
| 47 | | |
| 48 | | |
| 49 | | |
| 50 | | |