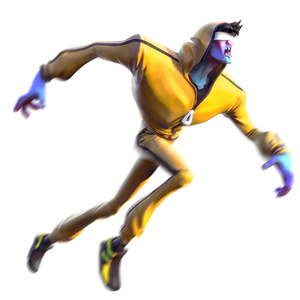 "Ready, set, go! Haha!"
---
Summary
Runners were once great athletes. They are speedy and powerful, but weak of both body and ego (and mind).
Very high damage melee attack and run speed
Set him loose on unprotected Humans
Low health but can dodge attacks
---
Visual Appearance
He wears a yellow jumpsuit and has blue skin.
Like most other fast melee zombies (stuntman, deliveryman, etc...) he has his eyes covered with a cloth or bandage.
---
Offensive Strategy
He has high damage, is fast and has a nice amount of dodge, if you can get him close enough to relatively defenseless humans then he will tear them apart.
---
Trivia
Like other fast running zombies, he moves at normal speed if he has no target, but as soon as he gets a target he "sprints" quickly towards it.
---
Perks
Level 3
Sharpened Claws - 5% chance to deal 200% damage
Level 10
Nimbleness - Dodges 40% of incoming attacks
Night Vision - Detects stealth
Level 20
Decreased Deployment I - Decreases deployment cooldown
Level 30
Wind Sprints - Increases movement speed by 45%
Razor Claws - 20% chance to deal 200% damage
Level 40
Decreased Deployment II - Further decreases deployment cooldown
Level 50
Vampirism - Heals self for 20% of damage dealt
Heightened Reactions - Decreases cooldown by 65%
---
| Speed | Deployment Cooldown (Initial) |
| --- | --- |
| ? | ? |
| Level | Health | Damage |
| --- | --- | --- |
| 1 | 12 | 12 |
| 2 | 17 | 17 |
| 3 | | |
| 4 | | |
| 5 | | |
| 6 | | |
| 7 | | |
| 8 | | |
| 9 | | |
| 10 | 105 | 105 |
| 11 | 122 | 122 |
| 12 | | |
| 13 | 159 | 159 |
| 14 | 179 | 179 |
| 15 | | |
| 16 | | |
| 17 | | |
| 18 | | |
| 19 | | |
| 20 | | |
| 21 | | |
| 22 | | |
| 23 | | |
| 24 | | |
| 25 | | |
| 26 | | |
| 27 | | |
| 28 | | |
| 29 | | |
| 30 | | |
| 31 | | |
| 32 | | |
| 33 | | |
| 34 | | |
| 35 | | |
| 36 | | |
| 37 | | |
| 38 | | |
| 39 | | |
| 40 | | |
| 41 | | |
| 42 | | |
| 43 | | |
| 44 | | |
| 45 | | |
| 46 | | |
| 47 | | |
| 48 | | |
| 49 | | |
| 50 | | |