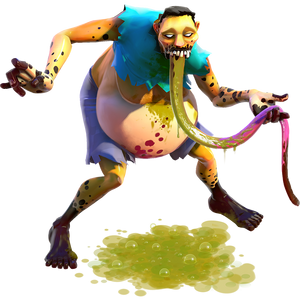 "Splish Splash."
---
Summary
Puddlers put out a pungent puddle of putrid poison that promptly pollutes people.
Creates a toxic puddle at range
Puddle damages all Humans standing in it
The puddle won't work well against moving targets
---
Visual Appearance
He has Yellow skin with a long pink tongue and a yellow-green saliva constantly oozing from his mouth.
Like most other ranged "spitting units" he has no jaw.
---
Offensive Strategy
Place him behind tanks and the horde while they move through the city, he will constantly cover your enemy in a pool of damage.

Place him close enough to snipers and other long ranged units who don't move. this is a good way to kill large numbers of them as they will never normally move.

If the "spreading slime" perk (Increases puddle area of effect by 90%) is taken then most groups (besides melee groups) will be heavily damaged whenever he lands an attack.
---
Trivia
Although this unit can deal a massive amount of damage it is important to remember that his damage is not always reliable and there are cases where he won't be able to do a lot of damage due to moving targets.
If this unit lets off a shot but dies just before the "spit" creates the puddle, the puddle will be harmless and do no damage.
---
Perks
Level 3
It burns – 5% chance to deal 200% damage
Level 10
Sludge Puddle – Reduces target movement speed by 30%
Vulnerability – Target takes 20% extra damage
Level 20
Decreased Deployment I - Decreases deployment cooldown
Level 30
Spreading Slime – Increases puddle area of effect by 90%
Effluvia – Increases range by 25%
Level 40
Decreased Deployment II - Further decreases deployment cooldown
Level 50
The Floor is Lava – Damage over time is permanent
Focused Fire – Targets support humans first
---
| Speed | Deployment Cooldown (Initial) | Epic Version |
| --- | --- | --- |
| ? | ? | Cesspool |
| Level | Health | Damage / Sec |
| --- | --- | --- |
| 1 | 20 | 4 |
| 2 | | |
| 3 | | |
| 4 | | |
| 5 | | |
| 6 | | |
| 7 | | |
| 8 | | |
| 9 | 143 | 35 |
| 10 | | |
| 11 | 195 | 49 |
| 12 | | |
| 13 | | |
| 14 | | |
| 15 | | |
| 16 | | |
| 17 | | |
| 18 | | |
| 19 | | |
| 20 | | |
| 21 | | |
| 22 | | |
| 23 | | |
| 24 | | |
| 25 | | |
| 26 | | |
| 27 | | |
| 28 | | |
| 29 | | |
| 30 | | |
| 31 | | |
| 32 | | |
| 33 | | |
| 34 | | |
| 35 | | |
| 36 | | |
| 37 | | |
| 38 | | |
| 39 | | |
| 40 | | |
| 41 | | |
| 42 | | |
| 43 | | |
| 44 | | |
| 45 | | |
| 46 | | |
| 47 | | |
| 48 | | |
| 49 | | |
| 50 | | |