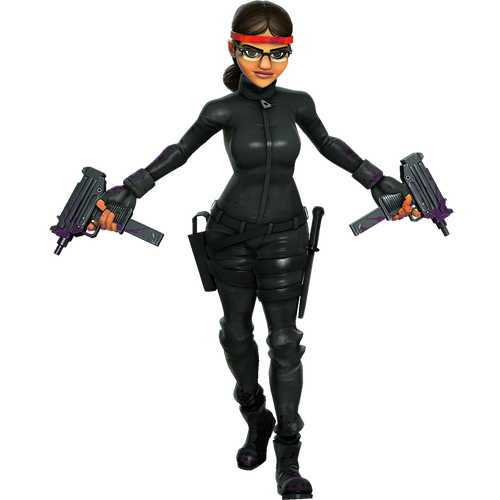 "Very professional."
---
Summary
Professionals earn their overtime by overwhelming weak enemies with a deluge of bullets.
Fires very fast but weak shots
Can hold off the Horde with little help
Has trouble with high health or armored targets
---
Visual Appearance
The Professional wears a black full body suit, a red head band and black boots.

She has a holster on her left thigh holding what appears to be a knife, though it is purely cosmetic as far as gameplay is concerned.
---
Strategy
The Professional shares many qualities with the Gunfighter line, firing at a medium range, quickly with low damage bullets.
What distinguishes the two is different perks and the trade-off of higher fire rate for less accuracy.
Due to different perk choices, the Professional can be specialized to ignore armor, a trait that the aforementioned Gunner is absent of. This allows for much more reliable use in PvP or areas with Titans.
---
Trivia
The Professional line and the Trooper are the only Gunfighter variations that wear glasses.
---
Perks
Level 3
Hollow Points - 6% chance to deal 240% damage
Level 10
Recoiless Firing - Lowers aim drift by 10
Lengthened Barrel - Increases range by 25%
Level 20
Decreased Deployment I - Decreases deployment cooldown
Level 30
Armor-Piercing Rounds - Ignores target armor
Covert Ops - Gains stealth
Level 40
Decreased Deployment II - Further decreases deployment cooldown
Level 50
Fight and Flight - Shoots while retreating
Evasion - Dodges 24% of incoming attacks
---
| Speed | Previous Version (Rarity) | Deployment Cooldown |
| --- | --- | --- |
| 7 | Commando | 40s |
| Level | Health | Damage |
| --- | --- | --- |
| 1 | 30 | 3 |
| 2 | 41 | 4 |
| 3 | 56 | 5 |
| 4 | 72 | 8 |
| 5 | 93 | 10 |
| 6 | 117 | 12 |
| 7 | 144 | 16 |
| 8 | 174 | 20 |
| 9 | 208 | 24 |
| 10 | 244 | 29 |
| 11 | 284 | 34 |
| 12 | | |
| 13 | | |
| 14 | | |
| 15 | | |
| 16 | | |
| 17 | | |
| 18 | | |
| 19 | | |
| 20 | | |
| 21 | | |
| 22 | | |
| 23 | | |
| 24 | | |
| 25 | | |
| 26 | | |
| 27 | | |
| 28 | | |
| 29 | | |
| 30 | 1060 | 142 |
| 31 | | |
| 32 | | |
| 33 | | |
| 34 | | |
| 35 | | |
| 36 | | |
| 37 | | |
| 38 | | |
| 39 | | |
| 40 | | |
| 41 | | |
| 42 | | |
| 43 | | |
| 44 | | |
| 45 | | |
| 46 | | |
| 47 | | |
| 48 | | |
| 49 | | |
| 50 | | |