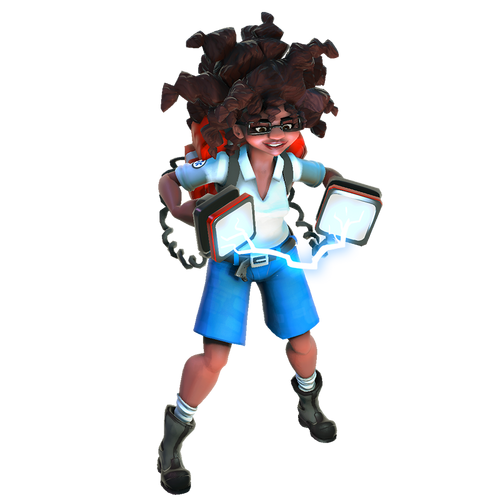 "I'm on the scene!"
Death: Damn the death...Noo..!
---
Summary
First responders through the end, Paramedics' small, fast heals keep their friends going strong.

Uses small, fast heals on squadmates.
Use her to support squad mates on the front lines.
No attack and low health; protect her.
---
Perks
Level 3

First Response (5% chance to heal for 200%)

Level 10 (choose)

Conductive Gel (Reduces Cooldown by 25%)
Cauterize (15% chance to heal for 300%)

Level 20

Decreased Deployment I (Decreases Deployment Cooldown)

Level 30 (choose)

Emergency Dispatch (Increases Movement Speed by 43%)
Best Practices (Increase Range by 50%)

Level 40

Decreased Deployment II (Further Decreases Deployment Cooldown)

Level 50 (choose)

Triage Station (Heals affect an area)
Overload (An area of affect attack)
---
Visual Appearance
The Paramedic appears as a woman dressed in shirt and shorts.
She wears spectacles.
She is carrying a large bag with a defibrillator. (Which she uses to heal other units)
---
Strategy
Place her with units you want healed.
Always keep the Paramedic defended.
---
Trivia
She is the first healing unit you can get.
| Speed | Rare Version | Rarity | Deployment Cooldown (sec) |
| --- | --- | --- | --- |
| 7 | EMT | Common | 30 |
| Level | Health | Heal |
| --- | --- | --- |
| 1 | 20 | 12 |
| 2 | 28 | 17 |
| 3 | 38 | 23 |
| 4 | 50 | 30 |
| 5 | | |
| 6 | 80 | 49 |
| 7 | 99 | 61 |
| 8 | 120 | 74 |
| 9 | 143 | 89 |
| 10 | 168 | 105 |
| 11 | | |
| 12 | | |
| 13 | | |
| 14 | | |
| 15 | | |
| 16 | | |
| 17 | | |
| 18 | | |
| 19 | | |
| 20 | | |
| 21 | | |
| 22 | | |
| 23 | | |
| 24 | | |
| 25 | | |
| 26 | | |
| 27 | | |
| 28 | | |
| 29 | | |
| 30 | | |
| 31 | | |
| 32 | | |
| 33 | | |
| 34 | | |
| 35 | | |
| 36 | | |
| 37 | | |
| 38 | | |
| 39 | | |
| 40 | | |
| 41 | | |
| 42 | | |
| 43 | | |
| 44 | | |
| 45 | | |
| 46 | | |
| 47 | | |
| 48 | | |
| 49 | | |
| 50 | | |