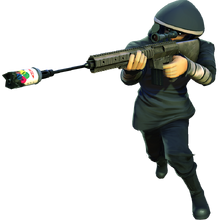 "Silence is golden."
---
Summary
The overwatch strikes from afar and without drawing attention, leaving the zombies more confused than normal.
A stealthed long-range unit
Zombies will ignore him until they're close
Targets large enemies first
---
Visual Appearance
Overwatch appears as a man wearing a black jacket, round hat, blue pants, and black boots.
Overwatch holds a very intimidating rifle with a can of compressed air at the end. It is assumed it acts as an impromptu silencer.
---
Strategy
The Overwatch is a long-range unit that is hidden from a Zombie's view until it gets close.
Overwatch does a good amount of damage, but is very weak health-wise.
Place him in a long corridor away from drones and let him attack the larger units.
Putting him behind a barrier that leads to a dead end will be a massive benefit, as the zombies will never attack him since they will never wander over to his position to trigger discovery.

Runners with the Night-Vision perk will pose a threat in this case.
Biohazards will also cause problems, as their massive AoE will likely damage the Overwatch accidentally.
---
Trivia
Using the name of his pervious rarity these units join the Commando and Field Medic families in having military experience before the outbreak.
---
Perks
Level 3
Laser Sight - 6% chance to deal 240% damage
Level 10
Enhanced Optics - 36% chance to deal 240% damage
Ammo Dump - Occasionally rapidly shoots 3 times in a row, but then has to reload
Level 20
Decreased Deployment I - Decreases deployment cooldown
Level 30
Hamstring - Decreases target movement speed by 40%
Blend In - Decreases stealth radius by 50%
Level 40
Decreased Deployment II - Further decreases deployment cooldown
Level 50
Recruitment Drive - Reduces deployment cooldown by 5 seconds
Camouflage Team - Give stealth to allies on squad point
---
| Speed | Previous Version (Rarity) | Rarity | Base Deployment Cooldown | Base stealth Radius |
| --- | --- | --- | --- | --- |
| 6 | Spec Ops (Rare) | Legendary | 45s | 12 |
| Level | Health | Damage |
| --- | --- | --- |
| 1 | 12 | 36 |
| 2 | 17 | 50 |
| 3 | 23 | 66 |
| 4 | 30 | 87 |
| 5 | 39 | 111 |
| 6 | 48 | 138 |
| 7 | 60 | 171 |
| 8 | 74 | 207 |
| 9 | 88 | 246 |
| 10 | 104 | 290 |
| 11 | 120 | 336 |
| 12 | 138 | 386 |
| 13 | 158 | 437 |
| 14 | 177 | 490 |
| 15 | | |
| 16 | 197 | 599 |
| 17 | 238 | 654 |
| 18 | 258 | 710 |
| 19 | 279 | 764 |
| 20 | 299 | 818 |
| 21 | 318 | 869 |
| 22 | 338 | 926 |
| 23 | 356 | 969 |
| 24 | 374 | 1016 |
| 25 | 390 | 1061 |
| 26 | 406 | 1104 |
| 27 | 422 | 1145 |
| 28 | 436 | 1184 |
| 29 | 450 | 1220 |
| 30 | 464 | 1254 |
| 31 | 476 | 1287 |
| 32 | | |
| 33 | | |
| 34 | | |
| 35 | | |
| 36 | | |
| 37 | | |
| 38 | | |
| 39 | | |
| 40 | | |
| 41 | | |
| 42 | | |
| 43 | | |
| 44 | | |
| 45 | | |
| 46 | | |
| 47 | | |
| 48 | | |
| 49 | | |
| 50 | | |