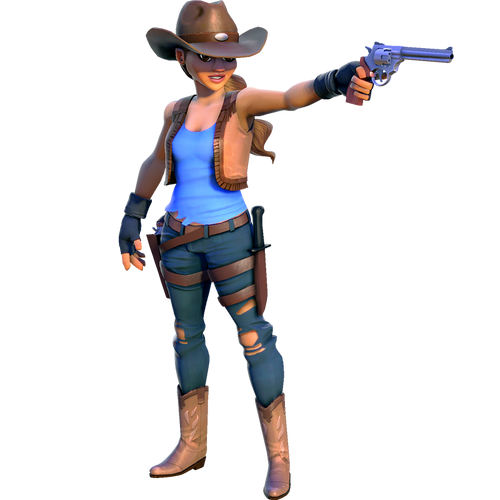 "Most wanted."
Occasionally says: "Meet your mate girl!"
---
Summary
Outlaws dispense frontier justice from the end of a slow but powerful six-shooter.

Fires a powerful but slow shot
Takes down most zombies with 1 or 2 shots
Slow cooldown so don't leave her alone
---
Perks
Level 3

Dead to Rights (5% chance to deal 200% damage)

Level 10 (choose)

Reduces Cooldown by 25%
Occasionally rapidly shoots 6 times in a row, but then has to reload

Level 20

Decreased Deployment I (Decreases deployment cooldown)

Level 30 (choose)

Careful Aim (15%chance to deal 300% damage)
Run 'n Gun (Shoots while retreating)

Level 40

Decreased Deployment II (Further decreases deployment cooldown)

Level 50 (choose)

Blunt-tipped Bullets (Can hit 2 targets per shot)
Iron Sights (Increases Range by 20%)
---
Visual Appearance
The outlaw wears her trademark cowboy hat.
---
Strategy
Useful in taking down high health units at close range, but need to be protected by melee units.
---
Trivia
---
| Speed | Rare Version | Rarity | Deployment Cooldown (sec) |
| --- | --- | --- | --- |
| 7 | Desperado | Uncommon | 35 |
| Level | Health | Damage |
| --- | --- | --- |
| 1 | 25 | 10 |
| 2 | 34 | 14 |
| 3 | | |
| 4 | 60 | 25 |
| 5 | | |
| 6 | 97 | 40 |
| 7 | 120 | 50 |
| 8 | 145 | 61 |
| 9 | | |
| 10 | 86 | 323 |
| 11 | | |
| 12 | | |
| 13 | | |
| 14 | 343 | 147 |
| 15 | | |
| 16 | | |
| 17 | | |
| 18 | | |
| 19 | | |
| 20 | | |
| 21 | 611 | 265 |
| 22 | | |
| 23 | | |
| 24 | | |
| 25 | | |
| 26 | | |
| 27 | | |
| 28 | | |
| 29 | | |
| 30 | | |
| 31 | | |
| 32 | | |
| 33 | | |
| 34 | | |
| 35 | | |
| 36 | | |
| 37 | | |
| 38 | | |
| 39 | | |
| 40 | | |
| 41 | | |
| 42 | | |
| 43 | | |
| 44 | | |
| 45 | | |
| 46 | | |
| 47 | | |
| 48 | | |
| 49 | | |
| 50 | | |