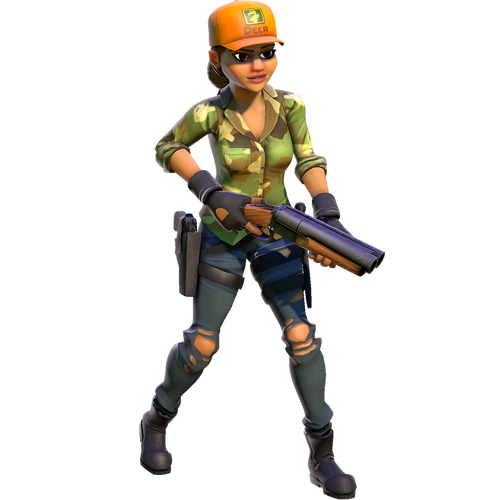 "Zombie season is open!"
---
Summary
This hired gun doesn't run. Mercenaries spray weak enemies with sawed off shotgun sadism.

Shoots multiple bullets in a wide arc
Great for taking thinning out the Horde
Takes a while to reload; can be overwhelmed
---
Perks
Level 3

Metal Shot (5% chance to deal 200% damage)

Level 10 (choose)

Birdshot (Increases number of bullets by 40%)
Double Barrels (Occasionally fires both barrels at once, but requires reloading after)

Level 20

Decreased Deployment I (decreases deployment cooldown)

Level 30 (choose)

Sawed-off (Increases Shot Spread by 50%)
Extended Barrel (Reduces Shot Spread by 50%)

Level 40

Decreased Deployment II (further decreases deployment cooldown)

Level 50 (choose)

Slugs (Increases Range by 30%)
Easy Loader (Reduces Cooldown by 15%)
---
Visual Appearance
The Mercenary appears as a young lady dressed in a cap and camouflage jacket.
She wields a sawn-off shotgun.
---
Strategy
The Mercenary does quite high damage, and can also aid in crowd control.
It is a good asset to any team. (Until you get the Scattershot of course!)
---
Trivia
Has a Sidearm however never seems to use it.
Before the apocalypse, it appears that the Mercenary was a deer hunter.
She is the first unit with a scattershot type weapon
---
| Speed | Rare Version | Rarity | Deployment Cooldown (sec) |
| --- | --- | --- | --- |
| 7 | Scattershot | Common | 30 |
| Level | Health | Damage |
| --- | --- | --- |
| 1 | 25 | 2 |
| 2 | 34 | 3 |
| 3 | 46 | 4 |
| 4 | 60 | 6 |
| 5 | 77 | 8 |
| 6 | 97 | 10 |
| 7 | 120 | 13 |
| 8 | 145 | 16 |
| 9 | | |
| 10 | | |
| 11 | | |
| 12 | | |
| 13 | | |
| 14 | | |
| 15 | | |
| 16 | | |
| 17 | | |
| 18 | | |
| 19 | | |
| 20 | 574 | 73 |
| 21 | | |
| 22 | | |
| 23 | | |
| 24 | | |
| 25 | | |
| 26 | | |
| 27 | | |
| 28 | | |
| 29 | | |
| 30 | | |
| 31 | | |
| 32 | | |
| 33 | | |
| 34 | | |
| 35 | | |
| 36 | | |
| 37 | | |
| 38 | | |
| 39 | | |
| 40 | | |
| 41 | | |
| 42 | | |
| 43 | | |
| 44 | | |
| 45 | | |
| 46 | | |
| 47 | | |
| 48 | | |
| 49 | | |
| 50 | | |