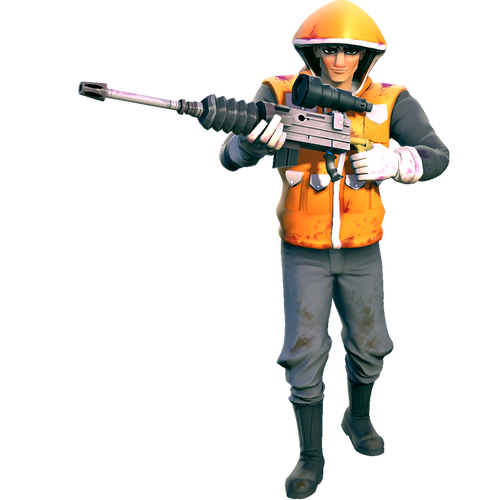 "Spinning up."
---
Summary Machine Gunners mow down the Zombie Horde once they've spent some time to set up their powerful turrets
Fires very fast at long range
Takes time to set up and reload his gun
Cannot fire in melee range
---
Perks
Level 3
Full Metal Jacket - 5% chance to deal 200% damage
Level 10
Heat Dissipation - Reduces Attack Duration by 50%
Total Metal Jacket - Increases Damage by 50% *stats will be different from the table below due to the damage increase
Level 20
Decreased Deployment I - Decreases deployment cooldown
Level 30
Lock and Load - Decreases set up time by 30%
Unlock and Eject - Increases spin down time by 100%
Level 40
Decreased Deployment II - Further decreases deployment cooldown
Level 50
Tripod - Allows firing in melee-range
Free-Float Tube - Increases range by 34%
---
Visual Appearance
Machine gunner wears a yellow camo with white stripes grey pants,dark grey boots and a Long range machine gun with a scope
---
Strategy
You want to put him as the same place as the sniper or Spec ops as while they priorities large enemies, machine gunners can mow down the horde with ease.
Due to his Long cooldowns, it is advisable to place him at specific rally points (mutated zombies that can cause problems i.e support infected),
---
Trivia
You are rewarded a machine gunner upon completion of Nairobi.
His legendary counterpart, Buzzsaw, does not have a scope and the tripod is set underneath the base gun then at the barrel.
| Speed | Elite Version | Rarity | Deployment Cooldown (sec) |
| --- | --- | --- | --- |
| 6 | Buzzsaw | Epic | 75 |
| Level | Health | Damage |
| --- | --- | --- |
| 1 | 10 | 1 |
| 2 | 14 | 2 |
| 3 | 19 | 3 |
| 4 | 25 | 4 |
| 5 | 32 | 6 |
| 6 | 40 | 8 |
| 7 | 50 | 10 |
| 8 | 61 | 13 |
| 9 | 73 | 16 |
| 10 | 86 | 19 |
| 11 | 100 | 22 |
| 12 | 115 | 26 |
| 13 | 131 | 30 |
| 14 | 147 | 34 |
| 15 | 164 | 38 |
| 16 | | |
| 17 | | |
| 18 | | |
| 19 | | |
| 20 | | |
| 21 | | |
| 22 | 281 | 66 |
| 23 | | |
| 24 | | |
| 25 | 325 | 117 |
| 26 | | |
| 27 | | |
| 28 | | |
| 29 | 375 | 137 |
| 30 | 386 | 141 |
| 31 | 396 | 146 |
| 32 | 406 | 150 |
| 33 | | |
| 34 | 423 | 158 |
| 35 | 431 | 161 |
| 36 | 438 | 164 |
| 37 | | |
| 38 | | |
| 39 | | |
| 40 | 463 | 176 |
| 41 | | |
| 42 | | |
| 43 | | |
| 44 | | |
| 45 | | |
| 46 | | |
| 47 | | |
| 48 | | |
| 49 | | |
| 50 | | |