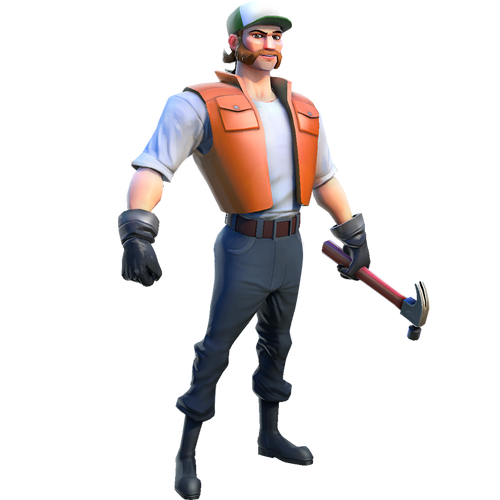 "You know what time it is!?"
---
Summary
Mr Fix-it? More like Mr Stun-it. The Handyman's hammer stuns some sense into those Mutated Zombies.

Stuns his target
He can lock down dangerous Zombies
Beware of Zombies with ranged attacks
---
Perks
Level 3

Premium Tools (5% chance to deal 200% damage)

Level 10 (choose)

Ringing Ears (increase stun duration by 35%)
Mr Fix-it (Repairs nearby walls)

Level 20

Decreased Deployment I (decreases deployment cooldown)

Level 30 (choose)

Well-Padded Vest (gains armor)
Hammer Throw (can throw his hammer)

Level 40

Decreased Deployment II (further decreases deployment cooldown)

Level 50 (choose)

Blueprints (target takes 30% extra damage)
Boundary Survey (Attacks affect an area)
---
Visual Appearance
The Handyman is geared with a trucker's cap, white shirt, orange pullover vest, black-blue gloves, blue jeans, blue boots and then of course his big little hammer.
---
Strategy
---
Trivia
| Speed | Rare Version | Rarity | Deployment Cooldown (sec) |
| --- | --- | --- | --- |
| 6 | Contractor | Uncommon | 18 |
| Level | Health | Damage |
| --- | --- | --- |
| 1 | 60 | 2 |
| 2 | 82 | 3 |
| 3 | 109 | 4 |
| 4 | | |
| 5 | | |
| 6 | 227 | 10 |
| 7 | 279 | 13 |
| 8 | | |
| 9 | | |
| 10 | 471 | 24 |
| 11 | | |
| 12 | | |
| 13 | | |
| 14 | | |
| 15 | | |
| 16 | | |
| 17 | | |
| 18 | | |
| 19 | | |
| 20 | 1318 | 73 |
| 21 | | |
| 22 | | |
| 23 | | |
| 24 | | |
| 25 | | |
| 26 | | |
| 27 | | |
| 28 | | |
| 29 | | |
| 30 | | |
| 31 | | |
| 32 | 2116 | 124 |
| 33 | 2161 | 127 |
| 34 | | |
| 35 | | |
| 36 | | |
| 37 | | |
| 38 | | |
| 39 | | |
| 40 | | |
| 41 | | |
| 42 | | |
| 43 | | |
| 44 | | |
| 45 | | |
| 46 | | |
| 47 | | |
| 48 | | |
| 49 | | |
| 50 | | |