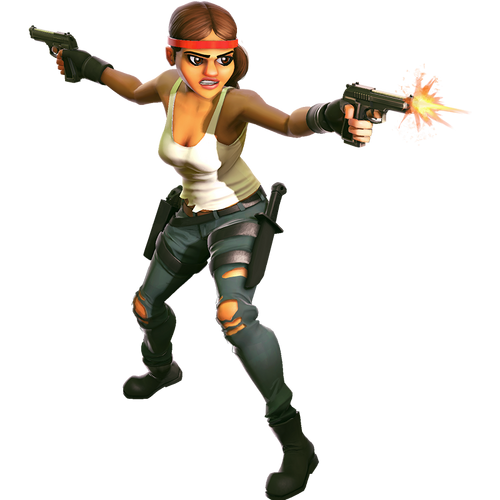 "Lock and Load!"
---
Summary
The Gunslinger is an expert with two pistols.  Her range may be short, but so is her patience with Zombies.
Medium range, low damage, but fast fire rate
Does decent damage by herself
Low health means she'll need to be protected
---
Visual Appearance
Similar to the Gunfighter, only with 2 knifes on each leg.
---
Strategy
As a ranged offensive unit, the Gunslinger is best used when combined with tanky units like the Firefighter or Lumberjack.
Remember that individual shots are weak and will be blocked by a Titan's armor. However, critical hits that deal more damage than the armor when the normal shot would not, the damage will still register.
---
Trivia
---
Perks
Level 3
Pew Pew - 6% chance to deal 240% damage
Level 10
On the Move - Shoots while retreating)
High Caliber - Increases damage by 20%)
Level 20
Decreased Deployment I - Decreases deployment cooldown
Level 30
Long Barrels - Increases range by 25%
Take Aim - 18% chance to deal 360% damage
Level 40
Decreased Deployment II - Further decreases deployment cooldown
Level 50
Compensator - Removes aim drift
Quick Fire - Decreases attack duration by 20%
---
| Speed | Previous Version | Rarity | Base Deployment Cooldown |
| --- | --- | --- | --- |
| 7 | Gunfighter (Common) | Rare | 30s |
| Level | Health | Damage |
| --- | --- | --- |
| 1 | 30 | 2 |
| 2 | 34 | 2 |
| 3 | 56 | 4 |
| 4 | | |
| 5 | | |
| 6 | 117 | 10 |
| 7 | 144 | 12 |
| 8 | | |
| 9 | | |
| 10 | | |
| 11 | | |
| 12 | | |
| 13 | 368 | 44 |
| 14 | 412 | 50 |
| 15 | 458 | 56 |
| 16 | 504 | 62 |
| 17 | | |
| 18 | | |
| 19 | | |
| 20 | 689 | 70 |
| 21 | | |
| 22 | 777 | 96 |
| 23 | | |
| 24 | | |
| 25 | | |
| 26 | | |
| 27 | | |
| 28 | | |
| 29 | | |
| 30 | 1060 | 136 |
| 31 | 1088 | |
| 32 | 1113 | 144 |
| 33 | | |
| 34 | 1160 | 152 |
| 35 | 1180 | 155 |
| 36 | 1199 | 158 |
| 37 | | |
| 38 | | |
| 39 | | |
| 40 | | |
| 41 | | |
| 42 | | |
| 43 | | |
| 44 | | |
| 45 | | |
| 46 | | |
| 47 | | |
| 48 | | |
| 49 | | |
| 50 | | |