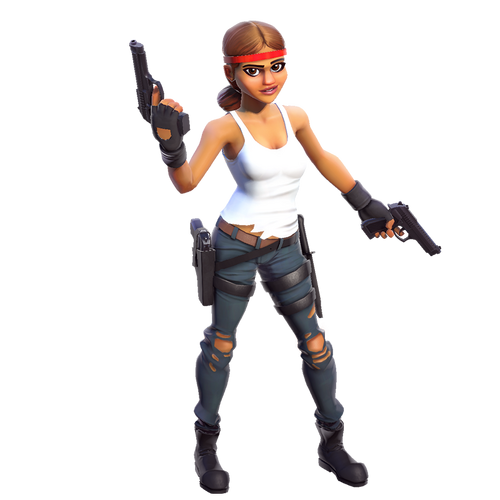 "Lock and load."
Occasionaly says: "Yippee-Kay-Yay". Death: "Out of Ammo".
---
Summary
Handy with a pistol and even better with two, the Gunfighter can take out plenty of Zombies at short range.

Medium range, low damage, but fast fire rate
Does decent damage by herself
Low health means she'll need to be protected
---
Perks
Level 3

Pew Pew (5% chance to deal 200% damage)

Level 10 (coose)

On the Move (shoots while retreating)
High Caliber (increases Damage by 20%)

Level 20

Decreased Deployment I (decreases deployment cooldown)

Level 30 (choose)

Long Barrels (increases range by 25%)
Take Aim (15% chance to deal 300% damage)

Level 40

Decreased deployment II (further decreases deployment cooldown)

Level 50 (choose)

Compensator (removes aim drift)
Quick Fire (decreases attack duration by 20%)
---
Visual Appearance
She appears as a woman in her 20s,holding dual handguns.
She wears a red headband,wears a white shirt and blue ripped jeans.
---
Strategy
She can fend off the drones with no problem,but can be overwhelmed by armoured units like the Titan.
Consider to put a few melee units in front of her to absorb the damage while she does the damage.
She is used mainly for crowd control with her large bullet spread and rapid rate of fire.
---
Trivia
She is the second troop found and unlocked in-game.
The first female survivor you unlock in the game.
In the early versions of the game,the gunfighter holds a shotgun instead of dual handguns.
There was a special unit given by developers that works like a gunfighter but it looks more like a cop
The guns she is using is a CZ 75.
---
| Speed | Rare Version | Rarity | Deployment Cooldown (sec) |
| --- | --- | --- | --- |
| 7 | Gunslinger | Common | 30 |
Level
Health
Damage
1
25
2
34
2
3
46
3
4
46
3
5
60
4
6
77
6
7
97
8
8
9
10
11
12
13
14
15
16
381
46
17
18
19
20
21
22
23
24
25
26
27
28
29
30
883
113
31
32
33
34
35
36
37
38
39
40
41
42
43
44
45
46
47
48
49
50