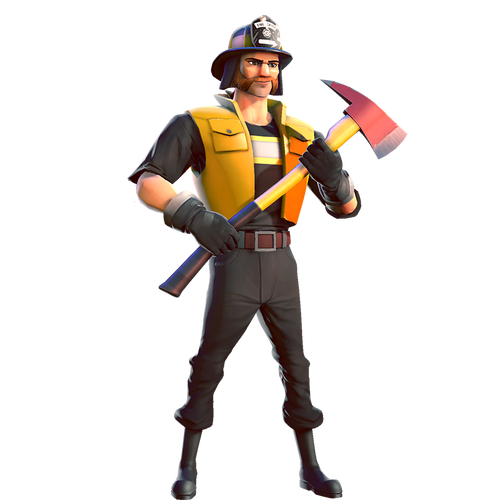 "AXE, and ye shall receive!"
---
Summary
Firefighters rush into the proverbial fire.They don't deal much damage, but they can take a beating.
High health with a medium damage melee attack
Defend weaker units by placing him in their squad
Ranged zombies will cause him problems
---
Perks
Level 3

Weighted Haft (5% chance to deal 200% damage)

Level 10 (choose)

Stoicism (increase healing effects by 30%)
Bellow (taunts Zombies to attack)

Level 20

Decreased Deployment I (decreases deployment cooldown [from 20 to ?])

Level 30 (choose)

Halligan Bar (deals 20% damage per second for 3 seconds)
Scar Tissue (increases health by 20%) ** Level stats in the table may vary due to this perk **

Level 40

Decreased Deployment II (further decreases deployment cooldown [from ? to ?])

Level 50 (choose)

Backdraft (attacks affect an area)
Foresight (dodges 20% of incoming attacks)
---
Visual Appearance
The Firefighter appears as a moustachioed man with a large fire axe.
---
Strategy
Works well with any type of high-health splash damage characters, like Timber Beast and Lumberjack.
A higher level firefighter can survive 2-3 impacts from Kill-A-Tons and Doomsdays.
He is used as a basic tanking unit-use him to block the Zombies.
---
Trivia
The Firefighter is the first Survivor unit available.
| Speed | Rare Version | Rarity | Deployment Cooldown (sec) |
| --- | --- | --- | --- |
| 6 | Fire Chief | Common | 20 |
| Level | Health | Damage |
| --- | --- | --- |
| 1 | 80 | 6 |
| 2 | 109 | 9 |
| 3 | 145 | 12 |
| 4 | 189 | 16 |
| 5 | | |
| 6 | 302 | 27 |
| 7 | 371 | 34 |
| 8 | | |
| 9 | | |
| 10 | 628 | 59 |
| 11 | | |
| 12 | | |
| 13 | | |
| 14 | | |
| 15 | | |
| 16 | | |
| 17 | | |
| 18 | | |
| 19 | | |
| 20 | | |
| 21 | 1868 | 184 |
| 22 | | |
| 23 | | |
| 24 | | |
| 25 | | |
| 26 | | |
| 27 | | |
| 28 | | |
| 29 | | |
| 30 | | |
| 31 | | |
| 32 | | |
| 33 | | |
| 34 | | |
| 35 | | |
| 36 | | |
| 37 | | |
| 38 | | |
| 39 | | |
| 40 | | |
| 41 | | |
| 42 | | |
| 43 | | |
| 44 | | |
| 45 | | |
| 46 | | |
| 47 | | |
| 48 | | |
| 49 | | |
| 50 | | |