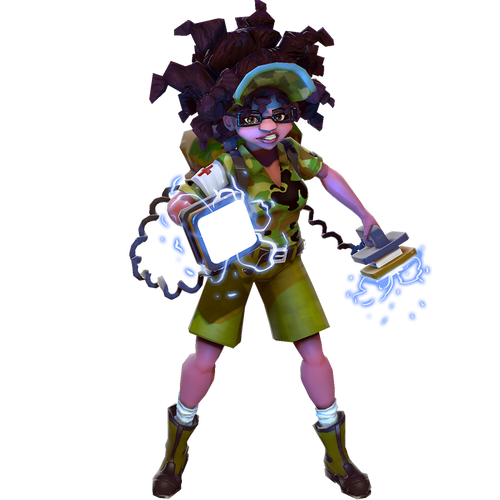 "Time for triage."
---
Summary
"Medic!" Do you know how many times I hear that? Ugh. Give me time and space, and I'll heal 'em up. Now shh.

Powerful heals, but a long cooldown
Best used to heal high health units
No attack and low health; protect her
---
Visual Appearance
The Field Medic shares the same base from the Support Survivors, with large messy hair.
She wears a camo shirt, green shorts, sun visor and yellow-green boots.
---
Strategy
Though not as fast with her heals as the Paramedic is, she trades off speed with potency, allowing for massive heals.
The Antibiotics perk is highly suggested, as it counters the main issue of the unit: the slow rate of heal. With it, she can heal a patient constantly, with massive heals and a nice bonus heal while cooling down.
Tanky Survivors will benefit from the larger heals, as they will sustain massive damage and will most likely not waste health through overheal.
---
Trivia
She was apparently an army medic before the outbreak.
The in-game summery is possibly a reference to the Medic from Team Fortress 2.
---
Perks
Level 3

Field Dressing (5% chance to heal for 200%)

Level 10 (choose)

Antibiotics (Heals an extra 10% per second for 4 seconds)
Booster Shot (Increases Heals by 20%)

Level 20

Decreased Deployment I (Decreases Deployment Cooldown)

Level 30 (choose)

Fast Hands (Decreases Cooldown by 20%)
Antiseptic Spray (Increases Range by 50%)

Level 40

Decreased Deployment II (Further Decreases Deployment Cooldown)

Level 50 (choose)

Public Health (Heals affect an area)
Overcharge (An area of effect attack)
| Speed | Epic Version | Rarity | Deployment Cooldown (sec) |
| --- | --- | --- | --- |
| 7 | Combat Medic | Uncommon | 30 |
| Level | Health | Heal |
| --- | --- | --- |
| 1 | 20 | 30 |
| 2 | 28 | 41 |
| 3 | 38 | 55 |
| 4 | 50 | 72 |
| 5 | 64 | 92 |
| 6 | 80 | 115 |
| 7 | 99 | 142 |
| 8 | | |
| 9 | | |
| 10 | | |
| 11 | | |
| 12 | 224 | 386 |
| 13 | | |
| 14 | | |
| 15 | 317 | 453 |
| 16 | | |
| 17 | | |
| 18 | 413 | 710 |
| 19 | 445 | 764 |
| 20 | 476 | 818 |
| 21 | | |
| 22 | | |
| 23 | | |
| 24 | | |
| 25 | | |
| 26 | | |
| 27 | | |
| 28 | | |
| 29 | | |
| 30 | | |
| 31 | | |
| 32 | | |
| 33 | | |
| 34 | | |
| 35 | | |
| 36 | | |
| 37 | | |
| 38 | | |
| 39 | | |
| 40 | | |
| 41 | | |
| 42 | | |
| 43 | | |
| 44 | | |
| 45 | | |
| 46 | | |
| 47 | | |
| 48 | | |
| 49 | | |
| 50 | | |