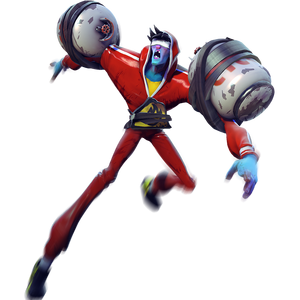 "Handle with care!"
---
Summary
Deliverymen are insane. They're strapped with volatile explosives and charge through the Horde to the target.
Explodes and greatly damages everything nearby
The explosion hurts Humans and Zombies alike
Don't let him die or attack near your Horde!
---
Visual Appearance
A zombie in a red jumpsuit with a "flammable warning" sign strapped to his waist.
He has two propane tanks taped to his arms which cause him to explode.
Like all "fast zombies" (Runner, Stuntman, etc) he has his eyes covered.
---
Strategy
Try placing him around a corner or behind a wall with large amounts of humans packed behind them.
If you are willing to sacrifice a few drones then spawning ~40 or so drones then have them move towards slow attacking units such as Snipers, Firefighters, Outlaws, Handymen, etc... and spawning a Deliveryman just as they get to the target can be a great way of removing a crowd.
Spawn the Deliveryman and then use the flare on a group of humans maybe a great way to make precision damage.
If you use Drone Geyser on a group of hard to reach humans then spawn a Deliveryman just as the zombies come up from the ground. This is a good way of clearing out those humans who would otherwise give you problems.
---
Trivia
The Harbinger is the upgraded rare version.
This unit will die after attacking causing his explosion.
This unit can't be revived with the mortician when killed, no matter who killed him (e.g himself or a human).
If he suicides then it won't count as a death to the "Unit survival bonus", it is still possible to get 100% as long as he wasn't killed by a human, only if he kills himself.
---
Perks
Level 3
Itchy Finger - 5% chance to deal 200% damage
Level 10
Volatility - Increases area of effect by 50%
Flashpoint - Increases movement speed by 45%
Level 20
Decreased Deployment I - Decreases deployment cooldown
Level 30
Rapid Decompression - Dodges 50% of incoming attacks
Nuclear explosion - Occasionally explodes for an extra 50% damage
Level 40
Decreased Deployment II - Further decreases deployment cooldown
Level 50
Safe Handling - Explosion does not harm other zombies
Cheat Death - Occasionally lives through the explosion
---
| Speed | Deployment Cooldown | Dodge | AOE Radius |
| --- | --- | --- | --- |
| xx (xx with flashpoint) | Base: xx Level 20: xx Level 40: xx | 25% (50% with Rapid Decompression) | xx (xx with Volatility) |
| Level | Health | Damage | Building Damage |
| --- | --- | --- | --- |
| 1 | 10 | 60 | 25 |
| 2 | 14 | 82 | 34 |
| 3 | 19 | 109 | 46 |
| 4 | 25 | 142 | 60 |
| 5 | | | |
| 6 | | | |
| 7 | | | |
| 8 | | | |
| 9 | | | |
| 10 | | | |
| 11 | | | |
| 12 | | | |
| 13 | | | |
| 14 | | | |
| 15 | | | |
| 16 | | | |
| 17 | | | |
| 18 | | | |
| 19 | | | |
| 20 | 249 | 1318 | 574 |
| 21 | | | |
| 22 | | | |
| 23 | | | |
| 24 | | | |
| 25 | | | |
| 26 | | | |
| 27 | | | |
| 28 | | | |
| 29 | | | |
| 30 | 386 | 2017 | 883 |
| 31 | | | |
| 32 | | | |
| 33 | | | |
| 34 | | | |
| 35 | | | |
| 36 | | | |
| 37 | | | |
| 38 | | | |
| 39 | | | |
| 40 | | | |
| 41 | | | |
| 42 | | | |
| 43 | | | |
| 44 | | | |
| 45 | | | |
| 46 | | | |
| 47 | | | |
| 48 | | | |
| 49 | | | |
| 50 | | | |