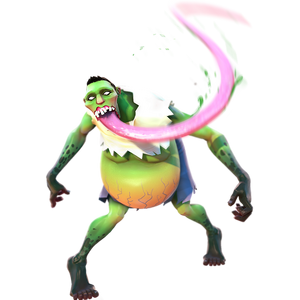 "I'm gonna hurl."
---
Summary
Hypersalivation in life, Defiler in death. Spitting their acidic globs far and wide.
Long-Range, medium damage unit
Destroys Human melee units
Use it to protect the horde.
---
Visual Appearance
He has green skin with a large pink stomach and a long tongue.
Like most other ranged infected units, he has no jaw.
Strategy
Place him at the back of your horde at a very long range, if he is kept alive well then you can end up with enough toxic "spit" across the battlefield to quickly kill humans.
With the right perks he can be a very quick damage dealer from a long range or a bane on the enemy by making them a lot weaker very quickly for a long time.
---
Trivia
You are rewarded a defiler upon completion of Lima.
---
Perks
Level 3
Toxic Spittle - 6% chance to deal 240% damage
Level 10
Viscosity - Spit travels 65% faster
Tri-SPit - Occasionally rapidly shoots 3 times in a row, but then has to recoup
Level 20
Decreased Deployment I - Decreases deployment cooldown
Level 30
Salivation - Reduces cooldown by 20%
Gummed Up - Increases target cooldown by 40%
Level 40
Decreased Deployment II - Further decreases deployment cooldown
Level 50
Splash Damage - Attacks affect an area
Hock a Loogie - Increases range by 30%
---
| Speed | Deployment Cooldown (Initial) | Previous Version (Rarity) |
| --- | --- | --- |
| ? | ? | Spitter |
| Level | Team Power | Health |
| --- | --- | --- |
| 1 | 12 | 8 |
| 2 | 17 | 11 |
| 3 | | |
| 4 | 30 | 20 |
| 5 | 39 | 26 |
| 6 | 48 | 33 |
| 7 | 60 | 41 |
| 8 | 74 | 51 |
| 9 | 88 | 60 |
| 10 | 104 | 71 |
| 11 | | |
| 12 | 138 | 95 |
| 13 | | |
| 14 | | |
| 15 | 360 | 197 |
| 16 | | |
| 17 | | |
| 18 | | |
| 19 | | |
| 20 | | |
| 21 | | |
| 22 | | |
| 23 | | |
| 24 | | |
| 25 | | |
| 26 | | |
| 27 | | |
| 28 | | |
| 29 | | |
| 30 | 464 | 324 |
| 31 | | |
| 32 | | |
| 33 | | |
| 34 | 508 | 356 |
| 35 | | |
| 36 | | |
| 37 | | |
| 38 | | |
| 39 | | |
| 40 | | |
| 41 | | |
| 42 | | |
| 43 | | |
| 44 | | |
| 45 | | |
| 46 | | |
| 47 | | |
| 48 | | |
| 49 | | |
| 50 | | |