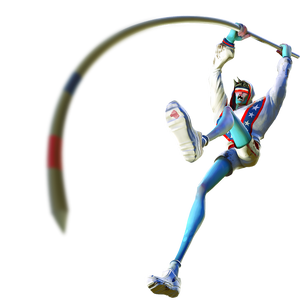 "Don't try this at home!"
---
Description
The Daredevil risks it all for the glory and effortlessly leaps over blockades and obstacles.
Can jump walls to get to hard to reach Humans
Medium damage and high speed
Low health but can dodge attacks
---
Visual Appearance
Wears a jacket with stars and stripes on it.
Very physically fit.
Like most other fast melee zombies (stuntman, deliveryman, etc...) he has his eyes covered with a cloth or bandage.
---
Offensive Strategy
Spawn him behind walls and barricades and possibly around corners.
If kept in horde he is able to deal a lot of damage to single target melee humans without dying.
Placing him near snipers who are "protected" by walls would devastate them.
---
Trivia
You are rewarded a daredevil upon completion of Dakar.
Always seems to get chewing gum on his shoe.
Like other fast running zombies, he moves at normal speed if he has no target, but as soon as he gets a target he "sprints" quickly towards it.
---
Perks
Level 3
Going the Distance - 5% chance to deal 200% damage
Level 10
Fosbury Flop - Dodges 50% of incoming attacks
Cleats - Increases movement speed by 45%
Level 20
Decreased Deployment I - Decreases deployment cooldown
Level 30
Coordinated Strikes - 20% chance to deal 200% damage
On the Hunt - Targets support humans first
Level 40
Decreased Deployment II - Further decreases deployment cooldown
Level 50
Training Season - Decreases cooldown by 66%
Put Ice on it - Heals for 10% health every second
---
| Speed | Deployment Cooldown (Initial) | Previous Version (Rarity) |
| --- | --- | --- |
| 25 | 25s | Stuntman |
| Level | Health | Damage |
| --- | --- | --- |
| 1 | | |
| 2 | | |
| 3 | | |
| 4 | | |
| 5 | | |
| 6 | | |
| 7 | | |
| 8 | | |
| 9 | 208 | 72 |
| 10 | | |
| 11 | | |
| 12 | | |
| 13 | | |
| 14 | | |
| 15 | 458 | 162 |
| 16 | | |
| 17 | | |
| 18 | | |
| 19 | | |
| 20 | 689 | 246 |
| 21 | | |
| 22 | | |
| 23 | | |
| 24 | | |
| 25 | | |
| 26 | | |
| 27 | 968 | 348 |
| 28 | | |
| 29 | | |
| 30 | 1060 | 383 |
| 31 | | |
| 32 | | |
| 33 | | |
| 34 | | |
| 35 | | |
| 36 | | |
| 37 | | |
| 38 | | |
| 39 | | |
| 40 | | |
| 41 | | |
| 42 | | |
| 43 | | |
| 44 | | |
| 45 | | |
| 46 | | |
| 47 | | |
| 48 | | |
| 49 | | |
| 50 | | |