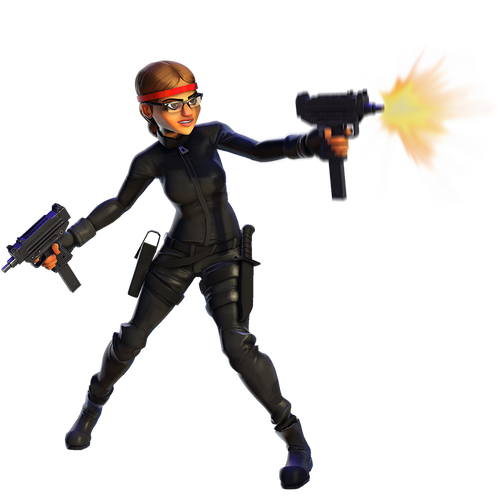 "Very professional."
---
Summary
Commandos are highly trained combat machines. Her deluge of bullets shames weak enemies.
Fires very fast but weak shots
Can hold off the Horde with little help
Has trouble with high health or armored targets
---
Visual Appearance
The Commando wears a black full leather suit, red hair band and black boots.
---
Strategy
The Commando has a quick fire rate at the cost of accuracy, so make sure to keep her at a medium distance from the hoard.
---
Trivia
You are rewarded with a Commando upon completion of Dakar.
---
Perks
Level 3
Hollow Points - 5% chance to deal 200% damage
Level 10
Recoilless Fire - Less Aim Drift
Lengthened Barrel - Increases Range by 25%
Level 20
Decreased Deployment I - Decreases deployment cooldown
Level 30
Armor-Piercing Rounds - Ignores target Armor
Covert Ops - Gains stealth
Level 40
Decreased Deployment II - Further decreases deployment cooldown
Level 50
Fight and Flight Shoots while retreating
Evasion - Dodges 20% of incoming attacks
| Speed | Previous Version | Rarity | Deployment Cooldown (sec) |
| --- | --- | --- | --- |
| 7 | | Epic | 35s |
| Level | Health | Damage |
| --- | --- | --- |
| 1 | 25 | 2 |
| 2 | 34 | 3 |
| 3 | 46 | 4 |
| 4 | 60 | 6 |
| 5 | 77 | 8 |
| 6 | 97 | 10 |
| 7 | 120 | 13 |
| 8 | 145 | 16 |
| 9 | 173 | 20 |
| 10 | 203 | 24 |
| 11 | 236 | 28 |
| 12 | 270 | 33 |
| 13 | 306 | 38 |
| 14 | | |
| 15 | | |
| 16 | 420 | 53 |
| 17 | 459 | 58 |
| 18 | 498 | 63 |
| 19 | 535 | 68 |
| 20 | 574 | 73 |
| 21 | | |
| 22 | 647 | 83 |
| 23 | 682 | 88 |
| 24 | | |
| 25 | 747 | 98 |
| 26 | | |
| 27 | | |
| 28 | | |
| 29 | | |
| 30 | 883 | 118 |
| 31 | 906 | 121 |
| 32 | 947 | 127 |
| 33 | 966 | 130 |
| 34 | | |
| 35 | | |
| 36 | | |
| 37 | | |
| 38 | 1028 | 140 |
| 39 | | |
| 40 | | |
| 41 | | |
| 42 | | |
| 43 | | |
| 44 | | |
| 45 | | |
| 46 | | |
| 47 | | |
| 48 | | |
| 49 | | |
| 50 | | |