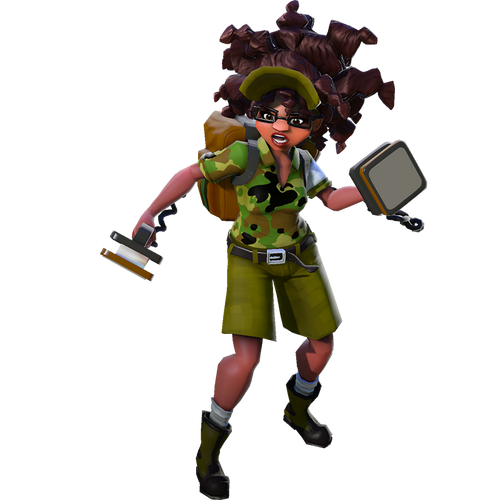 "Time for Triage!"
---
Summary
Battle-hardened before the apocalypse broke out, the Combat Medic use large, but slow heals to help others.

Powerful Heals, but on a long cooldown
Best used to heal high health units
No attack and low health; protect her
---
Perks
Level 3

Field Dressing (6% chance to heal for 240%)

Level 10 (choose)

Antibiotics (heals an extra 10% per second for 4 seconds)
Booster Shot (increases heals by 20%)

Level 20

Decreased Deployment I (decreases deployment cooldown)

Level 30 (choose)

Fast Hands (decreases cooldown by 20%)
Antiseptic Spray (increases range by 50%)

Level 40

Decreased Deployment II (further decreases deployment cooldown)

Level 50 (choose)

Public Health (heals affect an area)
Overcharge (an area of effect attack)
Visual Appearance
The combat medic wears a distinctive camouflage shirt.
---
Strategy
Pair the combat medic with units that have high health.
---
Trivia
You are rewarded a combat medic upon completion of Cape Town.
| Speed | Previous Version | Rarity | Deployment Cooldown (sec) |
| --- | --- | --- | --- |
| 7 | Combat Medic | Epic | 30 |
| Level | Health | Heal |
| --- | --- | --- |
| 1 | 24 | 36 |
| 2 | 34 | 50 |
| 3 | 46 | 66 |
| 4 | 60 | 87 |
| 5 | 77 | 111 |
| 6 | 96 | 138 |
| 7 | 119 | 171 |
| 8 | 144 | 207 |
| 9 | 172 | 246 |
| 10 | | |
| 11 | | |
| 12 | | |
| 13 | 305 | 437 |
| 14 | | |
| 15 | | |
| 16 | | |
| 17 | | |
| 18 | 496 | 710 |
| 19 | | |
| 20 | | |
| 21 | | |
| 22 | | |
| 23 | | |
| 24 | | |
| 25 | 744 | 1274 |
| 26 | | |
| 27 | | |
| 28 | | |
| 29 | 856 | 1464 |
| 30 | 880 | 1505 |
| 31 | 903 | 1545 |
| 32 | | |
| 33 | | |
| 34 | | |
| 35 | | |
| 36 | | |
| 37 | | |
| 38 | | |
| 39 | | |
| 40 | | |
| 41 | | |
| 42 | | |
| 43 | | |
| 44 | | |
| 45 | | |
| 46 | | |
| 47 | | |
| 48 | | |
| 49 | | |
| 50 | | |