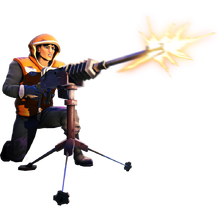 "Spinning up!"
---
Summary
Following setup time and a seaweed smoothie, the buzzsaw unleashes a storm of bullets at the advancing horde.
Fires very fast at a long range
Takes time to set up and reload his gun
Cannot fire in melee range
---
Visual Appearance
The Buzzsaw appears as a man wearing a black jacket and orange vest  
Kneeled down, he is holding onto a large Machine Gun.
---
Strategy
The Buzzsaw is best used with support from a high-health unit like the Fire Chief to act as a meat shield, protecting the Gunner from any Runners or Ranged Zombies.  Without this meat shield, the Buzzsaw can be easily overwhelmed during his reload time of approximately 6.5 seconds.
The Buzzsaw is also a better strategy with the help of high-damage single-shot units like the Sniper, Spec Ops or Dead Shot.
Buzzsaws do extremely high Damage, but their health is extremely low.
Buzzsaws have a decently far range, and shoot incredibly fast, making them able to mow down any drones or low health mutated zombies in their path.
---
Trivia
The predecessor of the Buzzsaw is called the Machine Gunner.
---
Perks
Level 3
Full Metal Jacket - 5% chance to deal 200% damage
Level 10
Heat Dissipation - Reduces Attack Duration by 50%
Total Metal Jacket - Increases Damage by 50% *stats will be different from the table below due to the damage increase
Level 20
Decreased Deployment I - Decreases deployment cooldown
Level 30
Lock and Load - Decreases set up time by 30%
Unlock and Eject - Increases spin down time by 100%
Level 40
Decreased Deployment II - Further decreases deployment cooldown
Level 50
Tripod - Allows firing in melee-range
Free-Float Tube - Increases range by 34%
---
| Speed | Previous Version (Rarity) | Rarity | Base Deployment Cooldown | Base Range |
| --- | --- | --- | --- | --- |
| 6 | Machine Gunner (Epic) | Legendary | 75s | 5-75 |
| Level | Health | Damage |
| --- | --- | --- |
| 1 | | |
| 2 | | |
| 3 | | |
| 4 | | |
| 5 | | |
| 6 | | |
| 7 | | |
| 8 | | |
| 9 | | |
| 10 | 104 | 23 |
| 11 | 120 | 27 |
| 12 | 138 | 32 |
| 13 | 158 | 54 |
| 14 | | |
| 15 | | |
| 16 | | |
| 17 | | |
| 18 | | |
| 19 | | |
| 20 | 299 | 70 |
| 21 | | |
| 22 | | |
| 23 | | |
| 24 | | |
| 25 | | |
| 26 | | |
| 27 | | |
| 28 | | |
| 29 | 450 | 165 |
| 30 | 464 | 113(w/o damage increase) |
| 31 | 476 | 176 (w/ damage Increase) |
| 32 | | |
| 33 | | |
| 34 | | |
| 35 | | |
| 36 | | |
| 37 | | |
| 38 | | |
| 39 | | |
| 40 | 128 | 263 |
| 41 | | |
| 42 | | |
| 43 | | |
| 44 | | |
| 45 | | |
| 46 | | |
| 47 | | |
| 48 | | |
| 49 | | |
| 50 | | |