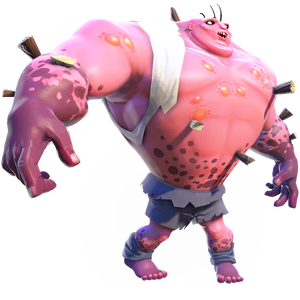 "Hot dog!"
---
Summary
A sunny disposition is offset by the Brute's need for smashing. Use him to sow destruction and soak up damage.
High health, medium damage unit.
A great damage sponge for your front line.
Ranged units will tear him up.
---
Visual Appearance
He has pink skin with a rash on his arms and legs.
Well built from waist up with relatively small legs and no neck.
There are wooden spikes through his arms and legs (possibly from the barricades he tanked through).
---
Strategy
Keep him in the front line, he has enough health to soak damage and does enough damage to make an impact on the humans.
This is an odd unit in a sense that he doesn't fit well in some cases: He has high health but not high enough to compete with the Colossus (not even his rare variant the Goliath can) and no armor to compete with the Titan. His damage is too low to compete with the melee zombies and he has no support capabilities. Everything this zombie can do all other zombies do better and more. That said some people may find a use for him and if he works for you, you may as well use him.
---
Trivia
For some reason, his legs are oddly small compared to his big torso and arms.
---
Perks
Level 3
Smash! - 5% chance to deal 200% damage
Level 10
Angry Flailing - Taunts Humans to attack
Constitution - Increases health by 20%
Level 20
Decreased Deployment I - Decreases deployment cooldown
Level 30
Ground Pound - Attacks affect an area
Slammers - Increases damage by 20%
Level 40
Decreased Deployment II - Further decreases deployment cooldown
Level 50
Hardened Skin - Adds armor
Tantrum - Occasionally increases damage by 40% for 5 seconds
---
| Deployment Cooldown | Speed | Cooldown | Duration |
| --- | --- | --- | --- |
| Base: 25s Level 20: xx Level 40: xx | 10 | 1.7s | 1.3s |
| Level | Health | Damage | Building Damage |
| --- | --- | --- | --- |
| 1 | 100 | 6 | 2 |
| 2 | 136 | 9 | 3 |
| 3 | 181 | 12 | 4 |
| 4 | 236 | 16 | |
| 5 | 301 | 21 | |
| 6 | 377 | 27 | |
| 7 | 463 | 34 | |
| 8 | 560 | 42 | |
| 9 | 667 | 50 | |
| 10 | 783 | 59 | 24 |
| 11 | 907 | 69 | |
| 12 | 1038 | 79 | |
| 13 | 1175 | 90 | |
| 14 | 1316 | 101 | |
| 15 | 1460 | 113 | |
| 16 | 1606 | 125 | |
| 17 | 1753 | 137 | |
| 18 | 1899 | 149 | |
| 19 | 2043 | 161 | |
| 20 | 2185 | 173 | |
| 21 | 2323 | 184 | |
| 22 | 2457 | 195 | |
| 23 | 2587 | 206 | |
| 24 | 2712 | 216 | |
| 25 | 2831 | 226 | |
| 26 | 2945 | 236 | |
| 27 | 3053 | 245 | |
| 28 | 3155 | 254 | |
| 29 | 3251 | 262 | |
| 30 | 3341 | 270 | |
| 31 | 3426 | 277 | |
| 32 | 3505 | 284 | |
| 33 | 3579 | 290 | |
| 34 | 3648 | 296 | |
| 35 | 3712 | 302 | |
| 36 | 3772 | 307 | |
| 37 | 3827 | 312 | |
| 38 | 3878 | 317 | |
| 39 | 3926 | 321 | |
| 40 | 3970 | 325 | |
| 41 | 4011 | 329 | |
| 42 | 4048 | 333 | |
| 43 | 4083 | 336 | |
| 44 | 4115 | 339 | |
| 45 | 4144 | 342 | |
| 46 | 4171 | 345 | |
| 47 | 4196 | 348 | |
| 48 | 4219 | 350 | |
| 49 | 4240 | 352 | |
| 50 | 4259 | 354 | |