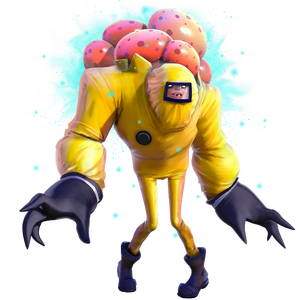 "Sharing is caring."
---
Summary
No amount of disease prevention protects Survivors from the Biohazard's slow moving, highly infectious cloud.
Has a diseased cloud which damage nearby enemies
The cloud affects multiple targets simultaneously
Low health, keep him safe in the Horde
---
Visual Appearance
The Biohazard wears a yellow Bio suit with black gloves and black boots.
He has lumps on his back that are normally found on all zombie support units.

In this case, they illustrate how his bio suit leaked and allowed him to become infected.
---
Strategy
Depending on the perks chosen, he could be a powerful damage dealer, healer and/or support (zombies get stronger or humans get weaker).
In a similar manner to ranged infected, place Biohazard behind tank units with many targets around.
Should you take the "Adrenal Stimulation" perk, place him with many damage dealing zombies.
---
Trivia
One of his perks, Cellular Regeneration, is also the name of a Stim-Z upgrade.
---
Perks
Level 3
Provirals - 5% chance to deal 200% damage
Level 10
Airborne Vector - Increases area of effect by 50%
Dangerous Strain - Increases damage by 30%
Level 20
Decreased Deployment I - Decreases deployment cooldown
Level 30
Torpor - Increases target cooldown by 30%
Adrenal Stimulation - Reduces ally cooldowns by 20%
Level 40
Decreased Deployment II - Further decreases deployment cooldown
Level 50
Necrotic Flesh - Target unable to be healed
Cellular Regeneration - Heals allies
---
| Speed | Deployment Cooldown | AoE radius |
| --- | --- | --- |
| 10 | 45 | 20 |
| Level | Health | Damage |
| --- | --- | --- |
| 1 | 20 | 1 |
| 2 | 28 | 2 |
| 3 | 38 | 3 |
| 4 | 50 | 4 |
| 5 | 64 | 6 |
| 6 | 80 | 8 |
| 7 | 99 | 10 |
| 8 | 120 | 13 |
| 9 | | |
| 10 | 168 | 19 |
| 11 | 195 | 29 |
| 12 | 224 | 34 |
| 13 | | |
| 14 | | |
| 15 | | |
| 16 | | |
| 17 | | |
| 18 | | |
| 19 | 445 | 71 |
| 20 | 476 | 76 |
| 21 | 507 | 81 |
| 22 | | |
| 23 | | |
| 24 | | |
| 25 | | |
| 26 | | |
| 27 | | |
| 28 | | |
| 29 | | |
| 30 | 733 | 94 |
| 31 | 752 | 97 |
| 32 | 770 | 100 |
| 33 | | |
| 34 | | |
| 35 | | |
| 36 | | |
| 37 | | |
| 38 | | |
| 39 | | |
| 40 | | |
| 41 | | |
| 42 | | |
| 43 | | |
| 44 | | |
| 45 | | |
| 46 | | |
| 47 | | |
| 48 | | |
| 49 | | |
| 50 | | |